Jurassic World: Dominion Dominates Fandom Wikis - The Loop
Play Sound
Shocking Blue
Namesake
Shocking Blue (Dutch rock band)
User
Mariska
Stats
Distance
Long-Range
Class
Automatic
Shocking Blue is the stand of Mariska. The stand has a liquid body, which can be manipulated by immersing a part of it in the water, and it automatically attacks. It can be found in Singapore, and alongside Mariska herself in Kom Ombo.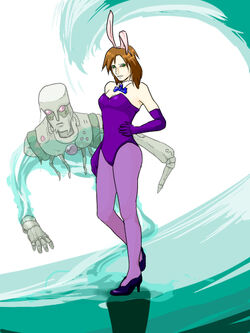 Power
[
]
Shocking Blue attacks using the element of surprise: It can't attack if the foe is not surprised at all. It can control the temperature of the water it controls, and can go into a victim and control their brain's liquid, clouding their judgement and warping their mind. Despite its strengths, it cannot take commands besides surprising and attacking a particular target.
Events
[
]
Behind the kopi shop in Singapore, there's a man in sunglasses who will warn you to stay away from the steel bars. Check them anyway to start a battle with Shocking Blue and Spirits x2. After the fight, you will get +1FP with whoever was in your party. In Kom Ombo, there's a crowded bar in the southeast part of town. Talk to the people inside, and eventually, objects will start to fly at you - touching them will start a battle with Shocking Blue. Defeat it, and you'll be locked inside the bar, and the enemy will keep attacking. Try to leave after defeating it at least 5 times to start an event and a battle with Mariska. Defeat her in a one-on-one fight for +3FP with whoever is in your party, or two-on-one for +1FP. You'll also get different dialogue depending on who's with you - for example, if you fight her with Abdul, she'll remark that he's just her type. If you decide to fight Mariska in a two-on-one fight, your extra party member will take 100 damage and will be inflicted with the "dying" status effect at the start of the fight.
Enemy Data
[
]
| Name | HP | EXP Gained | Dropped Money | Dropped Items | Notes |
| --- | --- | --- | --- | --- | --- |
| OPTIONAL BOSS: Shocking Blue (Singapore) | 800 | 127 | 250 | Sunlight Remedy | Range: M. Can use Bind-inflicting attacks, but other than that, is relatively easy to defeat. Weak to Ice and Water. |
| Shocking Blue (Kom Ombo) | 400 | 200 | 300 | Bottled Water | Attacks with Bind, Tsunami, and Hydro Pump. Will always get a pre-emptive strike. |
| OPTIONAL BOSS: Shocking Blue (Kom Ombo) | 700 | 2000 | 2000 | Secret Book Vol. 7 | Range: S. Can buff both it and Mariska's stats. Will try to use Bind if fighting it one on one. Inflict Berserk or Confuse on it before it gets the chance. |
Trivia
[
]
According to Clayman, Shocking Blue was the first original stand designed for the game.